Alanya Jeep Safari is the trip of road adventure. During the Jeep Safari tour, we can see the Turkish village and go swimming. When the tour is taking in the mountains, the adrenaline will be pushed. We will also experience having lunch on the banks of Dim River. Besides of go nature, we will see the local touch in the village. Being out from the town, this tour is really interesting for road trip lovers. The agenda of Alanya Jeep Safari tour is detailed in the following information.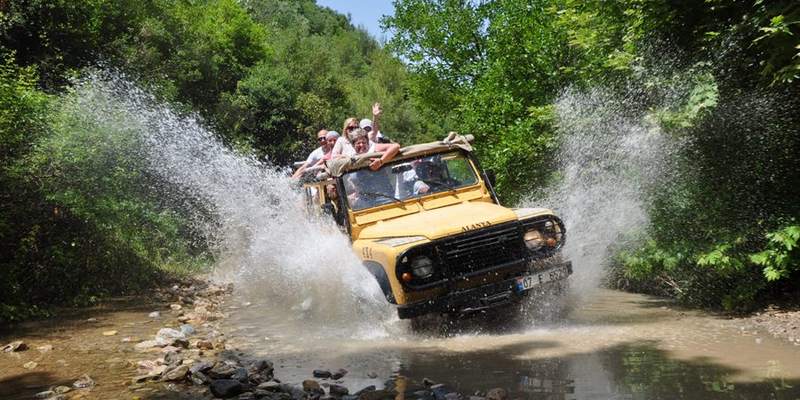 More Adventure with Dim River   
To start the adventure, we will be picked up from the hotels. Then, we will be driven to the starting point. In the first enjoyment, we will see is nomad tents. After driving further, we will find a village. This village has many traditional houses and mosques. It is a good idea to walking around the village. By walking in the village, we will get relax with the rural touch. For the lunch, it is located on the banks of Dim River. The experience of having lunch on the river banks is very exciting as well as refreshing. We will hear the flow of the water while enjoying the lunch. We are also allowed to swim in the river. So, we do not spend all day long sitting in the jeep. We also experience the touch of nature. During jeep riding, we may experience dust and dirt on the road. Hence, swimming is also a nice choice after riding the jeep. Swimming also makes us forget the Mediterranean heat.
After the enjoyment the river, we will turn back to Alanya. Along the way, we will see pine forest everywhere. We will not find any vehicle traffic along the way. There are only cattle, local villagers, and hidden roads.
How Much and  What's Included ?
The Alanya Jeep Safari costs from 18 euros per person. With this price, we get complete facilities. This price includes picking up & dropping back service, lunch (chicken BBQ), full insurance, and English & Russian & German guides. Remember that we should responsible for our personal expenditures, tips & gratuities, and drinks. We should not leave our drinks because this tour takes outside places. Do not forget to bring the camera, sun cream, trainers, spare clothes, and also sunglasses. This tour is made for us who enjoy outside adventure. Happy travelling!
More Information :Alanya Excursions