Jekyll Island, Georgia, offers visitors plenty of beaches, restaurants, and historic tours. When you're ready for an adventure, the island has exciting wild experiences for couples and families to enjoy, too.
Visit With Turtles and Gators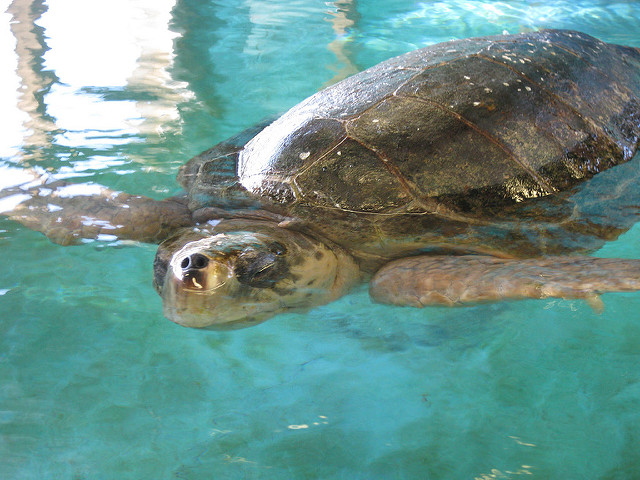 Image via Flickr by Oi Vey
Start your wildlife adventure at an attraction suitable for all ages. Learn about Jekyll Island's amphibious residents at the Georgia Sea Turtle Center. The center rehabilitates injured and sick sea turtles and other native birds and animals. Visitors can walk through the rehabilitation tank area to see the turtles being treated and fed. To get up close to these creatures, reserve your spot for the behind-the-scenes tour. The center is open daily from 9 a.m. to 5 p.m.
The center offers outdoor field trip courses, too. If turtles are too tame for you, check out the Gatorology 101 course. Pack your gear for a 2-mile hike to observe wild alligators in their natural habitat. Your guide will teach you all about alligator conservation and behavior.
See Dolphins at Play
Head to the Jekyll Island Historic Wharf to board a boat for a 90-minute dolphin tour. You should catch plenty of dolphins playing in the waters of the Intracoastal Waterway and marshes. Your captain will narrate your boat ride and help you scan the water for manatees, herons, and sea turtles.
Kids of all ages can have fun looking for dolphins and other marine life. Note that tour dates and times vary. Boats fill up so make sure to book your tour in advance to reserve your seats. Couples can opt for the sunset dolphin tour, which departs 30 minutes before the sun goes down on select days. Choose convenient accommodations near the wharf or other wildlife hot spots. Check out Jekyll Island hotels with Hotel Planner.
Treat the Kids to a Sea Life Experience
For quality kid time, don't miss the 4-H Tidelands Nature Center. Children can get to know resident turtles, alligators, and snakes. The center is part of Georgia's 4-H program and features educational programs and exhibits about native marine life.
Exhibits include touch tanks filled with hermit crabs and horseshoe crabs. The center's aquariums are home to shrimp, sea stars, and fish. You can see the exhibits Monday through Friday from 9 a.m. to 4 p.m. and from 10 a.m. to 2 p.m. on weekends.
Relax While Bird-Watching
Couples and older children may enjoy some quiet time while bird-watching on Jekyll Island. The best bird-watching venues on the island include the St. Andrews Observation Deck, which offers views of the Jekyll River.
You can also stroll along the boardwalk at Glory Beach. A visiting film crew built the boardwalk, which is now a favorite spot to see native birds including ospreys, egrets, and herons. You can access the boardwalk from the Jekyll Island Soccer Center.
Make sure to add a Jekyll Island wildlife experience to your itinerary between your beach days, delicious seafood meals, and historical tours. Create unforgettable vacation memories when you visit with local marine life, alligators, and native birds.